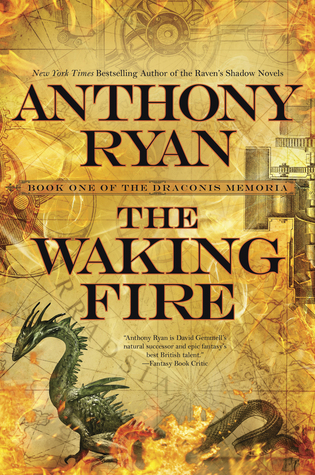 The Waking Fire by Anthony Ryan (Draconis Memoria #1)
Genre: Fantasy
Publisher: Ace
Length: 592 pages
Format: eARC
Rating: 3 stars
---
Publisher's description
"Throughout the vast lands controlled by the Ironship Syndicate, nothing is more prized than the blood of drakes. Harvested from the veins of captive or hunted Reds, Green, Blues and Blacks, it can be distilled into elixirs that give fearsome powers to the rare men and women who have the ability harness them—known as the blood-blessed.
 
But not many know the truth: that the lines of drakes are weakening. If they fail, war with the neighboring Corvantine Empire will follow swiftly. The Syndicate's last hope resides in whispers of the existence of another breed of drake, far more powerful than the rest, and the few who have been chosen by fate to seek it.
 
Claydon Torcreek is a petty thief and an unregistered blood-blessed, who finds himself pressed into service by the protectorate and sent to wild, uncharted territories in search of a creature he believes is little more than legend. Lizanne Lethridge is a formidable spy and assassin, facing gravest danger on an espionage mission deep into the heart of enemy territory. And Corrick Hilemore is the second lieutenant of an ironship, whose pursuit of ruthless brigands leads him to a far greater threat at the edge of the world.
 
As lives and empires clash and intertwine, as the unknown and the known collide, all three must fight to turn the tide of a coming war, or drown in its wake."
Review
I have not read Anthony Ryan previous Raven's Shadow trilogy but when I heard he was publishing a book featuring dragons, I was hooked (because DRAGONS!!). I know his first series has received quite mixed opinions (especially the second and third books) so I went into this book with a bit of apprehension.
I didn't like this book as much as I would have five or six years ago when I  was rereading Eragon over and over. I still enjoyed it but I don't think that I am the "target audience" for this book (which is not saying that this is not going to please a huge number of people).
If Mistborn: Shadows of Self and Eragon had a baby, it would probably be it. If you enjoyed one or both of those books, I would highly recommend The Waking Fire because you're probably going to love it!
The Waking Fire has a lot going on, it's a blend of steampunk and epic flintlock(it both has magic and guns) fantasy set in kind of Victorian setting but featuring western elements. And it has pirates, spies and assassins. Yep, it's pretty much trying to do everything and it's one of main complaint.
I like genre-bending books but sometimes, less is more. For me, Ryan tried to squeeze everything he liked into one single book and it threw me of the story because, I found that too much was going on too fast and it confused me. Also, I think that this book could have been about 150 pages shorter because it tended to be pretty repetitive especially during battle scenes.
However, it has some original elements and I do believe that it is going to be well loved by a good number of people. If you love epic battle scenes, kickass female characters, pirates, spies and dragons (yeah I HAD to put that in bold letters, because DRAGONS!), you're in for a treat. I don't especially love either steampunk, western, pirates story and long battle scenes (I am a bit of a pain  :P) and I still managed to liked the book so it's really not a bad one. The characters are all complex and interesting, the dragons are epic and I have to say that I never read something quite like this before.
As I said before, I haven't read Ryan's previous works so I can't really answer the "Is this as good as Blood Song?" question. However, I read a couple of reviews to see if people thought it was the case and so far, most people think that even if The Waking Fire is completely different from Blood Song, they enjoyed it as much, if not more because of how original it was. 🙂
So if you are looking for you next epic fantasy tome with dragons and a good numbers of pretty original elements, why not give The Waking Fire a try ?
I received this book from Netgalley in exchange for an honest review. My thanks to Ace. All opinions are my own.