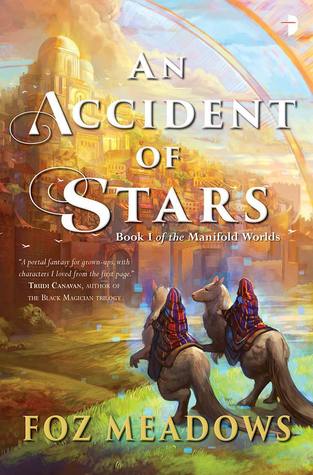 Genre: Epic Fantasy/ Portal Fantasy
Publisher: Angry Robot
Length: 496 pages
Format: eBook
Rating: 5 stars
Publication Date: August 2nd 2016
Publisher's description
When Saffron Coulter stumbles through a hole in reality, she finds herself trapped in Kena, a magical realm on the brink of civil war.
There, her fate becomes intertwined with that of three very different women: Zech, the fast-thinking acolyte of a cunning, powerful exile; Viya, the spoiled, runaway consort of the empire-building ruler, Vex Leoden; and Gwen, an Earth-born worldwalker whose greatest regret is putting Leoden on the throne. But Leoden has allies, too, chief among them the Vex'Mara Kadeja, a dangerous ex-priestess who shares his dreams of conquest.
Pursued by Leoden and aided by the Shavaktiin, a secretive order of storytellers and mystics, the rebels flee to Veksh, a neighboring matriarchy ruled by the fearsome Council of Queens. Saffron is out of her world and out of her depth, but the further she travels, the more she finds herself bound to her friends with ties of blood and magic.
Can one girl – an accidental worldwalker – really be the key to saving Kena? Or will she just die trying?
Review
As I mentionned in last month Wrap-Up I wanted to read lighter books and since I didn't make a TBR I had the complete liberty to read whatever I wanted (which is a bit unusual for me, I like to plan everything because it reassures me). Because of that I decided to randomly browse the books on my Kindle and I spotted An Accident of Stars that I pre-ordered months ago after reading Coral Bones, her fantastical retelling of The Tempest that I read as a part of the Monstrous Little Voices anthology.
I loved Coral Bones because of how Meadows portrayed female characters, gender and sexuality and I thought that reading about feminism in a portal fantasy could be quite interesting. The cover of An Accident of Stars is incredibly cheesy good lord, this book is fantastic.
First of all, it opens up with Saffron Coulter an ordinary high school students being harassed by one of her classmates. No one seem to caresabout that even the school administrators because for them "it's a normal behaviour for a young man". Saffron can't cope with how normalized sexism is but but unexeceptedly she receives help from a mysterious woman that she mistakes for a professor. In order to thank her, Saffron follows this woman but ends up falling through a portal and, of course, her life is turned upside down.
Just after reading this opening scene, I had a good feeling about this book. First of, I am in an engineering schooml which means that my school is composed of about 70% of men and I am surrounded by every day sexism. Most of the girls at my school do not think that "Women are terrible with computers", "girls just want to work in biology" or "Why are you upset, do you have your periods?" are sexist remark but I do and everytime I heard them, it's hard not to loose my shit. So when I started this book, I just thought "Well at least, I am not the only one to feel this way!".
At first, the plot doesn't seem particularly original, a crazy and treacherous man is on the throne and of course, one of the person who can help is our hero, Saffron. I don't have anything against this trope but still, nothing new. What completely sold this book to me is how exciting it was, how much I could relate with all the characters and how much I wanted them all to succeed. This book followed several characters and I care for all of them, even the ones that were a bit annoying because I could understand why they were acting this way.
This is not marketed as YA but if I knew someone that had a 11 to 16 years old daughter, I would push this book into their hands. I mean, it could be enjoyed by everyone but I wish I could have read this when I was younger. This book doesn't have any self-image issue, any love triangle, any angst, any of the things that are so in vogue currently in the YA genre.
This book does have several romances between person that love and respect each other a lot and it's a pleasure to read. In this book you'll find heterosexual, lesbian and polyamorous  relationships. One of the main point of this book is to show that, as long as everything is consensual, you can have relationships with anyone and that it shouldn't be judge by anyone because it doesn't concern them. The main character is openly bisexual (with a slight preference for girls) and it is never seen as problem for her because it doesn't have any reason to be. She never once puts in question her sexuality because that's a part of who she is and she finds it normal. I just wish more books were like that.
One of the other thing that I loved about this book is that An Accident of Stars is, without a doubt, an hommage to traditional epic fantasy yet with its own twists. For example, most of the characters in this books are female characters which is refreshing. However, it doesn't mean that it is builds around a reverse sexism, the male characters in this novel are awesome and they are an important part of the story too.
The first quarter of this book could be a bit hard for some reader because it's true that a lot of info is thrown at the reader. I didn't mind it whatsoever because I've read my share of epic fantasy and I am pretty quick to adapt to strange new worlds (and to seek out new life and new civilization 😉 )  but I have seen this complain in several reviews on Goodreads, so I figured I would still mentionned it.
In my opinion, this book deserves a million of stars but that I might have been because it was the right time to read, it's hard to "judge" five books, I don't know about you but when I rate a book five stars, I always ask myself if I would still give it the same rating after a reread and of course, it's hard to know. It's why I first rated this a 4.5* but after a bit of reflexion, I can't think to any reasons why I doesn't deserve a five stars. So a five stars it is! 😉
Highly recommended.