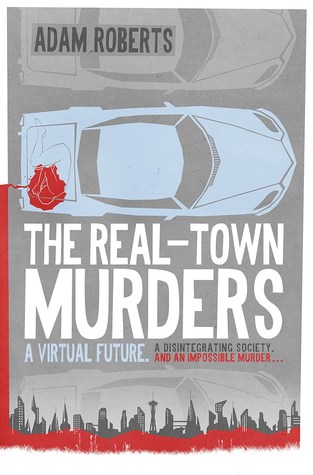 Genre:  Sci-Fi, Mystery
Publisher: Gollancz
Length: 240 pages
Format: eARC
Rating: 4 stars
Publication Date: August 24th 2017
Publisher's description
Alma is a private detective in a near-future England, a country desperately trying to tempt people away from the delights of Shine, the immersive successor to the internet. But most people are happy to spend their lives plugged in, and the country is decaying.
Alma's partner is ill, and has to be treated without fail every 4 hours, a task that only Alma can do. If she misses the 5 minute window her lover will die. She is one of the few not to access the Shine.
So when Alma is called to an automated car factory to be shown an impossible death and finds herself caught up in a political coup, she knows that getting too deep may leave her unable to get home.
What follows is a fast-paced Hitchcockian thriller as Alma evades arrest, digs into the conspiracy, and tries to work out how on earth a dead body appeared in the boot of a freshly-made car in a fully-automated factory.
Book Review
Set in world where people are addicted to the Shine, a virtual reality way more interesting than the real world, The Real-Towns Murders follows Alma, a private detective trying to solve a locked room mystery.
The situation? A body was found in a car booth of a car factory. The problem? Video footages show the car being built to scratch by robots and no humans entered the factory during this span of time. You could blame the AIs taking those footages but infortunately, they are incapable of lying, which means that a body magically appeared in the car while it was built by robots. So how the hell did it manage to appear in this place and why?
It is the mystery our dear detective Alma has to solve. However, soon after she's engaged on this particular mission, she found herself in a lot more than she bargained for: it appears that the government doesn't really want her to find who did it or why and if she really want to solve it, she'll have to do it with government agents trying to stop her.
The thing is, Alma's situation is a bit peculiar, she has to attend her sick partner Maguerite every four hours (not a minute less or more) or she'll die. Indeed her partner was attacked a while back by a gene hacker who linked Alma and Marguerite's DNA together. This means that Alma is the only one able to attend her partner and she can only use the expensive treatments provided by the hacker: welcome to the new bioransomware…
Of course, in a daily normal life, having to prevent someone from dying horribly every four hours isn't exactly stress-free but, when you are being pursued by governments agents who clearly want to kill you, it's even more complicated, especially when the partner in question is so big that it can't leave your home.
This book is utterly crazy but the kind of crazy I love: it is crazy in a very clever way. It's quite funny and quirky but at the same time, it really managed to deal with serious issues.
In this world where everyone escape in the Shine all the time, the Real Towns or R!Towns are left empty and the only ones roaming the streets are robots or people immersed in another world entirely. No one interacts directly anymore prefering the confort of conversations through screens and Roberts really managed to show how it affected the society and the way it was reshaped by this fact.
The whole book was an extreme example of how the future could turn out to be if we continue to bury ouselves into our smartphones and computers. It really made me think about how social media change the way we interact. Yes, it allows us to communicate way more easily but at the same time, it creates a barrier between people. In the Real Town Murders, people are so used to dealing with each other through screens that they are almost incapable to have a normal conersation face to face anymore (it made most of the dialogues in this book pretty hilarious!).
If you are looking for a fun read with important themes and discussions, I would highly recommend this book, I haven't read many things by Roberts (even if I own most of his works) but I really need to fly through his backlist because he has really interesting things to say and I really like how he says them.
Highly recommended.
I received a copy of this book through Netgalley. My thanks to Gollancz. All opinions are my own.