I seriously don't know where this year is going , September went by extremely fast and now October is upon us and I still feel like we are at the beginning of the year!
I love fall but as always (and I think it's the case for everyone), September is an extremely busy and exhausting month. I didn't have a lot of time to read and when I did, I either took naps or watch TV shows that were less demanding to my brain… So that's why there isn't a lot of books in the Books Read section but oh well, naps are important.
Books Read
The Real-Town Murders by Adam Roberts ★★★★
Interzone #263 ★★★
Station Eleven by Emily St John Mandel ★★★
When Dimple Met Rishi by Sandhya Menon ★★
Too Like the Lightning by Ada Palmer [REREAD] ★★★1/2
All Systems Red by Martha Wells ★★★
I didn't have the worst reading month ever but most of the things I read didn't really impress me. The Real Town Murders was the only book that really stood out to me this month. Station Eleven and All Systems Red were nice enough but they didn't managed to meet my expectations. I already managed to forgot the names of the main characters so that tells you something.
However, the biggest and most surprising disappointment is my re-read of Too Like the Lightning, yes I know, shocking considering that it was one of my favorite book of 2017. However, I didn't find it nearly as good after another read, I'm still intrigued by the sequel but this time, I found the style incredibly pretentious and plainly annoying. The intrigue was still good but the style felt overdone and almost awkward at times and it didn't felt right with the setting of the story.  I guess it didn't bother me as much the first time around because I was more interesting in the world and the complex political intrigues… Anyway, at least this time around I understood all the political maneuverings a bit more but I wouldn't consider this book to be a favorite anymore. 😦
Best Book of the Month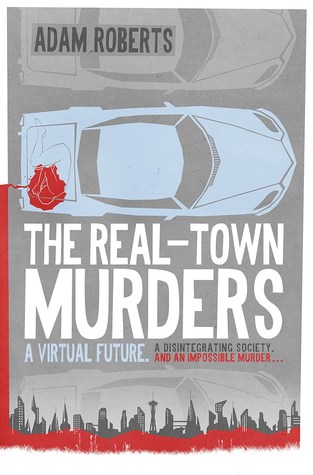 Without a doubt The Real-Town Murders by Adam Roberts, a fun, innovative and clever science fiction thriller that I devoured in a few sittings.
Currently Reading & TBR
I don't know about you but during fall I love to read spookier things and I have a ton of books I really want to get to this October! I started IT by Stephen King a few weeks ago and I would like to finish it this month. So far I like it even if I thought it was going to be much more scary than it actually is. However, since I have only read the first part yet, my opinion on the level of "scariness" may change. I'm also 10% in Null States by Malka Older which is the second book in the Infomocracy series and so far so good.
As I said, I am currently in the mood for scarier/spooky books this month and since I am considering a lot of options, I will just list the ones I really want to get to soon. If you see a particular title that looks interesting to you or that you would like me to read, please say so, it would help me narrowing down the list!
Reaper's Gale by Steven Erikson
Beyond Redemption by Michael R. Fletcher
The Last Days of Jack Sparks by Jason Arnopp
Mapping the Interior by Stephen Graham Jones
The Girl With All the Gifts by M.R. Carey
Skullsworn by Brian Staveley
The Girl from Rawblood by Catriona Ward
The Caves of Steel by Isaac Asimov
Shadow & Claw by Gene Wolfe
The Last Good Man by Linda Nagata
Hope you had a great month! 🙂