Top 5 Wednesday was created by gingerreadslainey and  is now hosted by Sam from Thoughts on Tomes if you want to know a little bit more about them you can check the Goodreads group here
---
I haven't done a Top 5 Wednesday post in a while because I prefer writing reviews than weekly prompts that can sometimes get a bit repetitive but, I quite like this week topic and I thought I could easily tweak the topic " Books you want to read before 2019″ to incorporate it into Sci Fi Month! 😀
Limiting myself to only five books was a bit complicated but I decided to only put books that I'm very excited about and that I would really love to read before the end of the year.
Red Moon by Kim Stanley Robinson
I read and loved New York 2140 by Kim Stanley Robinson last year so I'm excited for his new book. I would love to be able to read it for Sci Fi Month but I'm not sure I'll have the time to do so… I love books set on the Moon and I really admire KSR and his crazy ideas so I'm pretty sure I am going to love that book.
Blackfish City by Sam J. Miller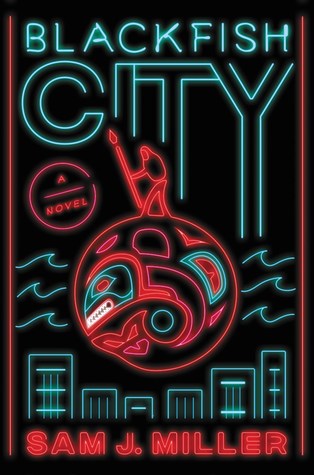 Sam J. Miller is one of my favorite short fiction writer and I still haven't picked up any of his longer works. Between his debut, The Art of Starving and Blackfish City, Blackfish sounds more to my taste. It's a climate fiction story set in a floating artic city and I've heard amazing things about this book. I'm expecting it to end up shortlisted for quite a few prizes in 2019 so I might as well read it now!
The Three-Body Problem by Liu Cixin
This book is on my SciFi Month TBR so if I stay on track, I should read this book before the end of the month. I've been meaning to read this one for years, all the books of the trilogy are out and it sounds right up my alley, so I don't know what I'm waiting for.
The Last Good Man by Linda Nagata
I received an ARC of this book about a year ago and I was meaning to read this book right when I got it but, I don't even know how, I managed to completely forgot about it. However, it came back on my radar a few days ago when someone recommended Nagata's books to me. It's another book that I would like to read for Sci Fi Month and, if I don't manage to read it this month, it will be for December for sure, it has waited long enough!
I preordered a copy of this book months before its release in 2016 and, as you may have guessed, it has been sitting on my shelves ever since. I've read a couple of novellas and essays by Allan and they were all brillant so, again, I know I will probably like this book quite a bit. I just have to read it!
Amazingly enough, Ancillary Justice isn't on this list because I finally read it earlier this month! I know, shocking right? (Spoiler alert: I enjoyed it as much as I expected to! 😀 ).
What are the books you want to read before the end of the year? If you have read any of the books mentionned, what did you think of them? 🙂