This is going to be quick since I only read three books.. Yes three! It was the least productive reading month I had in years so that's why I have been a bit absent from the Internet for the last couple of weeks. The good thing is, even if I wasn't very productive the three things that I read I enjoyed A LOT so there is that!
Books Read
In Order To Live by Yeonmi Park ★★★★★
Cibola Burn by James S.A. Corey ★★★★
Ninefox Gambit by Yoon Ha Lee [REREAD] ★★★★★
As you can see, two five stars rating and a four, April was good month for me!
In Order to Live by Yeonmi Park is a nonfiction book, more precisely, it is a memoir of Yeonmi's escape from North Korea and it was mindblowing. I almost never read nonfiction but I'm so glad I picked this up, it's a hard read but it is fascinating and it made realize a lot of things about my own life. I know I sound extremely cheesy saying that but I mean it, I have always been fascinated by North Korea and how people lived there and reading Yeonmi's story was hard but eye-opening and I would absolutely recommend this book to anyone!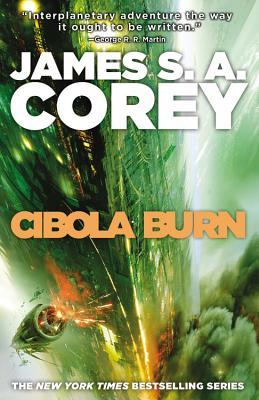 Cibola Burn was good book to read after In Order to Live because of how different it is. I liked it a lot more than Abaddon's Gate that I found a bit boring and had a hard time concentrating on (mind you, it could have been because I was listening to it) and it reminded me why I liked this series so much. The characters, the world and the adventures are really good and when you read an Expanse book, it feels like you are reading a blockbuster. The Expanse is not my favorite SF series but it is fun as hell and I really like it for that. (And also, Avasarala and Bobby!!)
Speaking of my favorite SF series, I decided to re-read Ninefox Gambit because I just received an ARC of its sequel, Raven Stratagen (my thanks to Solaris I am sooo excited!), and I really wanted to experience the first book again. I am so glad I did because even though I found Ninefox Gambit amazing the first time around it was even better the second time. Indeed, this time I wasn't confused during the first part of the book because I already knew how Yoon Ha Lee's world worked. Yes this is not a book for everyone, I saw a bunch of mixed reviews lately saying that this was too complicated and the world made no sense. It is complex, true, but it is damn clever and I personally think that the world make sense as long as you don't try to assimilate it to our own. Anyway, enough fangirling, as you can obviously see, I love this and it is a book that I will revisit many times in the future!
Currently Reading & TBR
I am basically currently reading the same things I was currently reading at the same time last month: The Wall of Storms by Ken Liu, Five Stories High edited by Jonathan Oliver and Empire's End by Chuck Wending.
Since my reading schedule is all over the place, I don't have a TBR but I would very much like to read Raven Stratagem by Yoon Ha Lee but we shall see if that's actually going to happen!
Hope you had a good reading months! What were your favorite reads this April ?